[ad_1]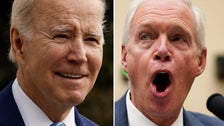 The Biden White House fired back at a tweet from Fox News on Thursday with audio from a Republican senator.
The conservative network in a post, and linked story, accused the White House of tripling down on what it described as President Joe Biden's "false claims" in his State of the Union speech about "some Republicans" wanting to cut Social Security.
In response, the White House wrote: "Republican Senator Ron Johnson, in radio interviews today, said that Social Security was a 'legal Ponzi scheme' and that Social Security should have been privatized."
In the audio shared by the White House, Johnson (R-Wis.) said: "That's why what I talked about, for the first time around in 2010, I just laid out the reality of Social Security. It's a legal Ponzi scheme. It is. I mean, it's a pay-as-you-go system."
Later Thursday, Johnson suggested the system be privatized.
"Privatizing Social Security," he said. "That was like the worst thing in the world. Well, you know, had we done it back then, you know, Social Security might be in a more stable position for younger workers."


[ad_2]

Source link