[ad_1]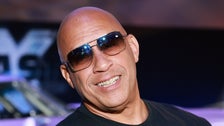 Diesel told Variety's Marc Malkin that he'd want Downey to join the franchise before it's expected to come to an end in the sequel to the upcoming "Fast X."
"Without telling you too much about what happens in the future, there's a character who is the antithesis of Dom who is promoting AI and driverless cars and a philosophy that, with that, goes your freedom," Diesel said.
"That and there is somebody that believes that's the future, and that's at direct odds with the Toretto mentality."
Malkin later asked if Diesel spoke to the "Iron Man" actor about the role.
"How dare you ask me this question in front of all these people, I have pride and I have dignity," Diesel jokingly said as he growled at Malkin.
This isn't the first time that Diesel has shown Downey love.
"He has a way of giving everyone he comes in contact with so much inspiration. You see it in the roles he plays," Diesel wrote about his former "Avengers" co-star.
"Like me he has never won an Oscar, but that means zero when it comes to how he has affected the world. His very existence represents the power of resilience. The love you have for him pales in comparison to the love I have for his spirit."


[ad_2]

Source link