[ad_1]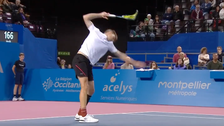 Three double faults in a short span on Wednesday put Alexander Bublik over the edge ― and his rackets in mortal danger. (Watch the video below.)
Bublik, ranked 50th in the world, was defending his title at the Open Sud de France in Montpellier when he fell apart against Grégoire Barrère in the first round.
The Kazakhstan star theatrically smashed his racket to bits on the court before plucking a couple of spares from the sideline and whacking those into oblivion as well.
The racket death toll exceeded that of prominent bad boy Nick Kyrgios when he wrecked two in his exit from the U.S. Open last year. But it's probably not an achievement Bublik would want to brag about.
The No. 6 seed finally succumbed in his match against Barrère 6-4, 6-7 (12), 7-6 (3). He double-faulted 14 times overall, and we're guessing it wasn't the rackets' fault.


[ad_2]

Source link