[ad_1]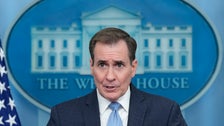 The White House confirmed Friday that a second "high-altitude object" has been shot down over U.S. airspace.
National Security Council coordinator John Kirby made the announcement at a White House press briefing, saying the Department of Defense was tracking the object about 40,000 feet above Alaska for the past 24 hours. It "posed a reasonable threat to the safety of civilian flight," Kirby said.
"Out of an abundance of caution and at the recommendation of the Pentagon, President Biden ordered the military to down the object," Kirby continued, saying a fighter aircraft carried out the task Friday afternoon and that the object fell on ice.
The Pentagon is expected to provide more details later Friday afternoon. Kirby said the U.S. does not know who owns the object nor what its purpose was, but officials hope to recover the debris and investigate its contents.
The object was "much, much smaller" than the Chinese spy balloon U.S. authorities downed last Saturday, Kirby said, comparing it to "the size of a small car." The Chinese spy balloon was roughly 200 feet tall.
This is a developing story. Please check back for updates.


[ad_2]

Source link