[ad_1]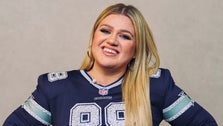 Kelly Clarkson gave retiring quarterback Tom Brady her own farewell gift Thursday: a parody of her 2004 hit "Since U Been Gone." (Watch the video below.)
"For the GOAT, that's a wrap/ Now he just posts thirst traps/ Now that he's gone," she sang.
In her monologue, Clarkson threatened to mess up the seven-time Super Bowl winner if he ventured into daytime talk shows.
Clarkson also poked fun at the Dallas Cowboys for another early playoff exit and characterized the Super Bowl as a game between the Kansas City Chiefs and "some garbage other team," meaning the Philadelphia Eagles.
She gave a nod to Chiefs tight end Travis Kelce and Eagles center Jason Kelce being the first brothers to play against each other in the big game.
"Thanks, Donna Kelce and her ovaries for making this possible," Clarkson joked of the players' mom.


[ad_2]

Source link