[ad_1]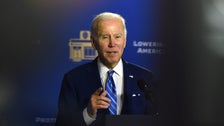 President Joe Biden apparently won't sit down for the traditional pre-Super Bowl interview with Fox, which is airing the game on Sunday and has an icy relationship with the administration.
White House press secretary Karine Jean-Pierre said Friday, when the pre-Super Bowl interview is usually taped, that plans had been in place, but Fox bowed out.
"The President was looking forward to an interview with Fox Soul to discuss the Super Bowl, the State of the Union, and critical issues impacting the everyday lives of Black Americans," Jean-Pierre said in a statement. "We've been informed that Fox Corp has asked for the interview to be cancelled."
Fox Soul is the corporation's livestream platform aimed at Black audiences. It launched in 2020, with one Fox executive describing it as a place for shows about "what African American people talk about around the kitchen table."
A spokesperson for Fox did not immediately return HuffPost's request for information about the interview falling through.
Each year, the president typically gives an interview to the network broadcasting the Super Bowl that can air before the game; Biden sat down with Lester Holt of NBC News in 2022, and with CBS' Norah O'Donnell in 2021 for those pregame interviews. But his relationship with Fox, whose conservative Fox News network has been highly critical of his presidency, is more strained.
Two years into his term, Biden has not given an interview to the network. Its prime time hosts, including Sean Hannity, frequently allege on air that Biden is "senile" and "plagued by his own cognitive decline."
Former President Donald Trump also declined to give interviews to networks he sparred with, and rebuffed a 2018 pre-Super Bowl interview with NBC.


[ad_2]

Source link