[ad_1]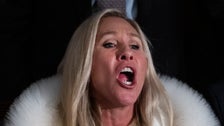 Rep. Marjorie Taylor Greene (R-Ga.) apparently made a spectacle of herself yet again at a gathering of House lawmakers — this time at a classified briefing on the suspected Chinese spy balloon.
"I tore 'em to pieces!" Greene gleefully boasted to The Hill when asked about her behavior at the briefing Thursday.
One unidentified lawmaker at the meeting described her behavior as "irrational," according to the outlet.
"When she got to ask questions, she was yelling out, saying 'bullshit,' and, you know, 'I don't believe you.' Just screaming and yelling — irrational in my estimation," the lawmaker recounted to The Hill.
Greene reportedly complained that she had to wait her turn to speak, and then unleashed on the military officials presenting at the briefing.
"I had to wait in line the whole time. I was I think the second to last person, and I chewed them out just like the American people would've," Greene told The Hill.
Greene said she was incensed the balloon wasn't blown out of the sky earlier. It floated over the U.S. for four days before it was shot down last Saturday off the Atlantic coast in an effort to avoid undue risk to civilians.
Greene had railed last week that former President Donald Trump never would have allowed the balloon to even cross the U.S. border — yet the Defense Department later revealed that three suspected Chinese surveillance balloons had "transited" the country while Trump was president.
The latest outburst erupted just two days after Greene screamed "liar!" when President Joe Biden chided Republicans in his State of the Union address for strategizing to erode Social Security. In fact, several Republicans — apparently unbeknownst to Greene — are doing just that.
Her behavior led House Speaker Kevin McCarthy (R-Calif.) to "shush" Greene on national TV as he sat behind Biden while the president delivered his speech.
"The level of white trashdom in the Republican Party is staggering," he told MSNBC's Ari Melber on Thursday.


[ad_2]

Source link