[ad_1]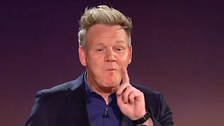 The Kansas City Chiefs and Philadelphia Eagles don't hit as hard as Gordon Ramsay ― when it comes to judging Super Bowl snacks. (Watch the video below.)
The famous chef was tasked with reviewing big-game creations made by "The Late Late Show" staff on Thursday, and he didn't hold back. Literally.
He repeatedly spit the samples onto the floor while adding nasty commentary.
A nearly retching Ramsay expelled "S&M" sausage and mozzarella stromboli (an homage to halftime singer Rihanna's "S&M" song), Philly cheesteak puff pastries, tomato bisque and teriyaki meatball sliders. He said the sliders resembled his dog's poop.
But the unkindest ― and funniest ― cut of all was aimed at associate producer Chanler Jackson's vegan seven-layer dip.
"It looks like the inside of my granddad's colostomy bag," Ramsay sniped, getting big laughs out of host James Corden and the audience.
Yeah, he spit that out, too.
One dish actually got his approval: production coordinator Pedro Domit's tahini tacos and guacamole with pomegranate.


[ad_2]

Source link