[ad_1]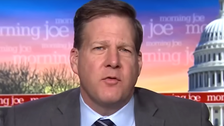 Sununu, himself a potential Republican presidential candidate, told MSNBC's "Morning Joe" there was no way Trump would be the party's 2024 nominee.
"Look, Donald Trump is not gonna be the nominee," Sununu told Mika Brzezinski.
Sununu repeatedly insisted it was very early days in the race and it is just "not going that way" for Trump. "We're just going to say thank you for your service and let's move on," he added.
However, when Brzezinski pressed Sununu on how he'd vote if "lightning struck twice" and Trump did secure the nomination, the governor admitted he'd back the twice-impeached former president.
"Of the former president and myself, one of us is a lifelong Republican and one of us will always support the Republican nominee," he said.
"But is he a lifelong Republican?" she replied.
"No. That's me, Mika," Sununu responded.
Watch the interview here:


[ad_2]

Source link