[ad_1]

In the years before he was accused of running down and stabbing an Orange County bicyclist in a shocking, apparently unprompted assault, Vanroy Evan Smith struggled with his mental health, according to his family and court records.
In a petition filed in Los Angeles County Superior Court in December seeking full custody of their two children, Smith's ex-wife wrote that the 39-year-old was "diagnosed with paranoid schizophrenia and bi-polar disorder."
A family member, who spoke to The Times on condition of anonymity because of fears for their safety, said the diagnosis came after an incident in 2020 that drew police to Smith's home in Long Beach. In that incident, Smith allegedly attacked his friend, who was trying to subdue him during a mental health episode, according to the relative. Smith was hospitalized and released after a few days.
"He's attacking, not realizing that we're trying to help him," the relative said.
In the child custody papers, Smith's ex-wife wrote that he "destroyed property at his home in a violent mental health episode."
On Dec. 19, 2020, Long Beach police officers were called at about 12:12 p.m. to Smith's home on the 6400 block of Atlantic Avenue after receiving reports of a "violent, mentally ill person," according to a summary of the call obtained by The Times.
"Upon arrival, officers contacted a male adult subject who was inside a residence causing property damage and was involved in an altercation with an acquaintance," according to the summary.
Firefighters took Smith to a hospital, where he was placed on a "5150 hold," meaning he was detained for 72 hours after he was believed to be a danger to himself, or others, due to a mental health disorder.
Now, Smith is suspected of striking Dr. Michael John Mammone, 58, with his white Lexus on Feb. 1 while Mammone was riding his bicycle in Dana Point, Orange County sheriff's officials said. Smith then got out of the car and repeatedly stabbed Mammone with a knife, authorities said.
Mammone died at Providence Mission Hospital in Mission Viejo, where he sometimes worked as an emergency room physician, deputies said.
Smith was pinned down by bystanders, who had rushed to help Mammone after the attack, according to authorities. A knife, believed to have been used in the assault, was recovered at the scene.
Investigators are not aware of a connection between Smith and Mammone and are still trying to determine what prompted the assault.
"An innocent man is dead because he took a bike ride to enjoy a beautiful California day along the beach and he was hit with a car and stabbed to death by someone he apparently never met," Orange County Dist. Atty. Todd Spitzer said in a news release last week. "The murder of a complete stranger in broad daylight for what appears to be absolutely no reason is the stuff of nightmares."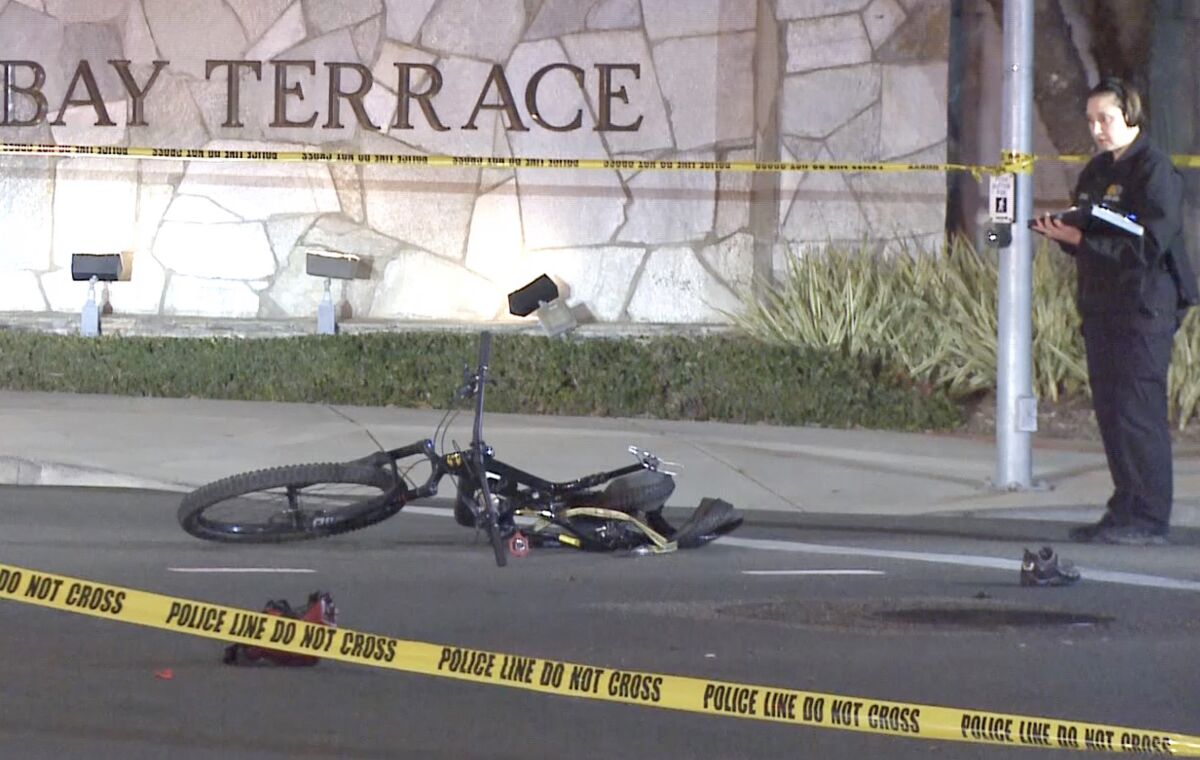 Smith pleaded not guilty Friday to a murder charge and a sentencing enhancement alleging personal use of a deadly weapon, according to Orange County Superior Court records. Smith, who is listed as unemployed in jail records, is being held on $1-million bail.
If convicted, Smith faces a maximum sentence of 25 years to life in prison.
Smith was born and raised in Jamaica and moved to the U.S. around 2008 after getting married, the family member said. After his divorce in 2012, he stayed in the Long Beach area to help look after his children. Smith had his own accounting business and lived alone.
Alexander Solhi, whose law firm is in the same building as Smith's accounting business, said Smith did his firm's bookkeeping for at least two years. Smith attended two of the firm's Christmas parties and would occasionally go out to dinner with Solhi, he said.
"He was a very polite, nice guy," Solhi said. "He didn't seem like a violent guy whatsoever. There were no dangerous propensities that would stick out. That's why I was pretty shocked to see it was him doing that. Definitely completely out of character."
By late 2019 and early 2020, Solhi said, Smith appeared increasingly strained.
"He looked very stressed and not comfortable in his own skin," Sohli said. "I couldn't differentiate if it was work-related. He had two children, but it seemed like it was very peaceful between him and his ex-wife."
Solhi last saw Smith about a year ago, when Smith told him that he was vacating the building and was going to work from home.
Smith's family member who spoke to The Times said they hadn't seen Smith since around Thanksgiving. Two days before Mammone's killing, the family member said, they reached out to Smith by text to check in.
"I said, 'Is there anything we can do? We want to help you,' " the relative said. "He was very calm and said, 'No, I'm OK. I'll let you guys know if I need help.' That was it."
The family is devastated about what happened.
"The person who he was is gone," Smith's family member said. "There's no coming back from this situation."
Friends and family of Mammone, meanwhile, have struggled with the loss of their loved one and are still searching for answers.
Dr. William Dodge became close friends with Mammone while the two worked in the emergency department at Providence Mission Hospital in Laguna Beach.
Mammone covered the night shifts and earned a reputation as a level-headed, thorough and kind doctor.
"He had the reputation of being a nice guy, a cool guy who would bend over backwards for his patients and go the extra mile," Dodge said.
"The entire Mission Hospital family is grieving over the loss of an incredible physician and friend," representatives for the hospital wrote in a statement last week. "We will honor Dr. Mammone's dedication to our community and passion for medicine."
[ad_2]

Source link