[ad_1]

After losing to Rep. George Santos (R-N.Y.) in a Long Island race that helped hand Republicans control of the U.S. House, Democrat Robert Zimmerman has become one of Santos' fiercest critics in the press. Zimmerman has denounced Santos on television, canvassed for petition signatures demanding Santos' resignation and earned the attention of The Washington Post's style section, which profiled his unique post-election life.
And while Zimmerman has not announced plans to run again, he has entertained the idea on social media.
"George, if that's even your real name, if you're so convinced that #NY3 voters still trust you – resign & run against me again in a special election," Zimmerman tweeted in late December.
But Zimmerman's work as a high-powered public relations consultant could complicate another potential congressional run.
Newsday reported in January that Las Vegas Sands had hired Zimmerman's firm, ZE Creative Communications, to assist it in its bid for casino rights at the site of the Nassau Coliseum, a longtime Long Island sports arena and arts venue.
In its current form, Las Vegas Sands is the product of the entrepreneurial handiwork of the late Republican megadonor Sheldon Adelson, who grew the company into a gaming and hospitality giant after purchasing the Sands Hotel in 1988.
After Adelson's death in January 2021, his widow, Dr. Miriam Adelson, became the multibillion-dollar company's majority shareholder.
Miriam Adelson also resumed her late husband's role as a major benefactor in Republican politics. Adelson, a physician, contributed $12.5 million each to the main Republican Senate and House super PACs in the 2022 election cycle — a total of $25 million to those two groups alone.
As a Democratic pundit and donor, Zimmerman has a history of deriding the late Sheldon Adelson's hold on the Republican Party.
In a March 2012 appearance on CNN, Zimmerman likened Adelson's financial support for Newt Gingrich, then a Republican presidential candidate, to a "sugar daddy" who sponsors a "trophy candidate," just as a wealthy man might use money to woo a "trophy wife."
Speaking to Politico in 2015, Zimmerman argued that billionaire mutual fund founder Warren Buffett's speech at a fundraiser for then-presidential candidate Hillary Clinton was different than an Adelson or David Koch fundraiser for Republican candidates because people actually want to hear what Buffett has to say.
"The only people who are coming to a Sheldon Adelson or David Koch event are people who are looking to walk away with a check," he said, referring to Republican political candidates seeking the two billionaires' backing.
Asked to reconcile his work for Las Vegas Sands with Miriam Adelson's status as a Republican megadonor and his past comments about her husband, Zimmerman told HuffPost that there was no conflict between his work for Las Vegas Sands and his views on the Adelson family's political giving.
"My firm's work in no way compromises my integrity and principles," he said in a statement.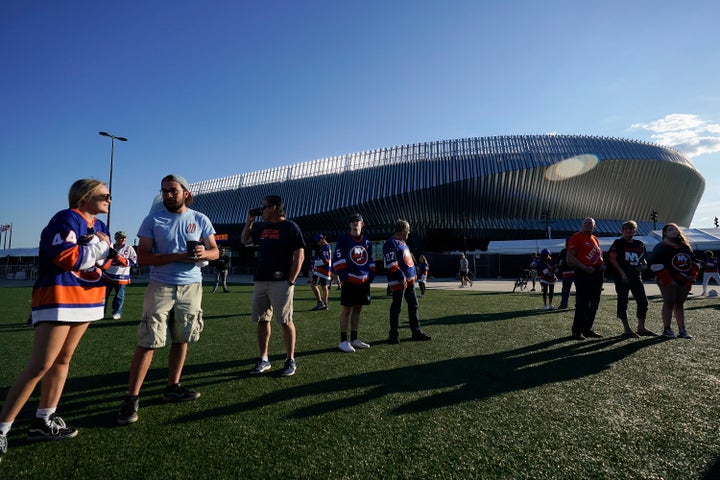 Zimmerman is collaborating on the Las Vegas Sands project with Theresia "Resi" Cooper, a registered lobbyist who is handling direct contact with lawmakers. Las Vegas Sands has retained Cooper and Lauren Corcoran-Doolin, Cooper's colleague at Ten Key Strategies, for $15,000 a month, according to a disclosure that Cooper filed with the state.
As a public relations consultant rather than a lobbyist, Zimmerman is not required to disclose the compensation his firm is receiving for its work on behalf of Las Vegas Sands. HuffPost asked a spokesperson for Zimmerman how much his firm is earning from the arrangement, but Zimmerman did not provide a response.
Las Vegas Sands is not Zimmerman's first controversial client. In the mid-2000s, he collaborated with Cooper on an effort to help Broadwater Energy — a company owned by Shell Oil — get state approval for a natural gas terminal along the Long Island Sound. The proposed terminal, which would have connected to an existing pipeline transporting natural gas from Canada, drew immediate opposition from members of both political parties concerned about its potential impact on the regional ecosystem and national security.
Then-state Sen. Carl Marcellino, a Long Island Republican who chaired the state Senate Environmental Conservation Committee, questioned a Broadwater executive in a 2005 hearing about whether the terminal might make a juicy target for a potential terrorist.
"Are we building a bomb in the middle of Long Island Sound?" he asked.
Ultimately, in 2008, opposition to the project prompted the state government to deem it inconsistent with environmental guidelines for the Long Island Sound. Facing an all-but-certain defeat, Broadwater officially pulled the plug on the project in 2012.
By the time Zimmerman ran against Santos in 2022, however, he was touting his commitment to protecting the Long Island Sound from pollution.
"I pledge to be a stalwart defender of the Long Island Sound ecosystem and to work every day to safeguard the public health of the constituents of the 3rd Congressional District," Zimmerman wrote in a September tweet celebrating an endorsement from the League of Conservation Voters.
Still, Zimmerman's work for Las Vegas Sands is likely to have the biggest impact on another run for Congress due to the horse trading and lobbying that characterizes gaming license fights in which billions of dollars are at stake.
New York Gov. Kathy Hochul (D) effectively controls the state's gaming commission, which gets the final say on who receives the new "downstate" casino licenses. Along the way, other state and local elected officials will have the chance to weigh in on proposals submitted by companies competing for the new licenses. That, in turn, makes the licensing process a potential fundraising opportunity for politicians with sway in the matter, and a lucrative opening for the various consultants and lobbyists who specialize in securing influence in Albany.
The country's biggest casinos have long fantasized about breaking into the metropolitan New York City market, which currently has two "racinos" — partial casinos with horse betting — but not full-scale casino operations. The New York state legislature's April authorization of three casino licenses in or around New York City has set off a scramble for a license in which Las Vegas Sands is now competing.
If Las Vegas Sands wins its bid for a casino license on Long Island, the location will be the company's only domestic property. Las Vegas Sands, which has massive properties in China and Singapore, sold its last remaining Las Vegas complexes — the Venetian and the Sands Expo and Convention Center — in March 2021.
Many states have embraced legal gambling for the new revenue it provides. And in union strongholds like New York, casinos that agree not to fight unionization drives often also benefit from the political support of influential labor unions like the Hotel Trades Council.
It remains unclear how Las Vegas Sands plans to approach relations with organized labor in New York. The company famously employed a scorched-earth approach against unionization efforts at its former Las Vegas properties.
But the gaming giant's proposal to redevelop the Nassau Coliseum site has the support of John Durso, the president of the Long Island Federation of Labor, an umbrella group for the region's unions.
"We must not miss this opportunity to deliver for our residents," Durso told Newsday in January.


[ad_2]

Source link