[ad_1]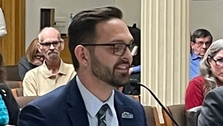 A gun lobbyist in Colorado said during a committee hearing this week that statistics for gun-related deaths among children and adolescents would be lower "if you remove Black males in that age group from that."
The comments came from Kevin Lorusso, a representative for Colorado's largest gun lobby, Rocky Mountain Gun Owners, during a hearing in the state legislature on several gun bills, Denver7 reported.
During his testimony, Lorusso also suggested that if Jewish people in the Holocaust had been armed, they could have at least "taken a couple of Nazis out on the way" to their own deaths.
"I cannot fathom why someone would say, 'You know, the Jews would've still died in the Holocaust, so maybe they didn't need their guns,'" Lorusso said. "You know what? Maybe they should have taken a couple of Nazis out on the way. Maybe it would've been good for them to have the ability to defend themselves. And that's what this is all about."
"If you remove Black males in that age group from that, it is not true," Lorusso said, according to Denver7. "That is a symptom of a different issue. The issue that is causing young Black males to be killed in their homes and on their streets is a very different issue. And most of those, I believe the number is 99%, but I'll safely say 98% of those murders are committed with illegally acquired and illegally possessed firearms."
Jason Goldstick ― a University of Michigan associate professor and the lead author of a letter on child and adolescent shooting deaths that Brown cited in the committee hearing ― acknowledged to Denver7 that "Black youth are definitely at higher risk than non-Hispanic white or Hispanic white, or Native American (youth)." But the story notes that Goldstick "doesn't understand why lawmakers are getting hung up on the rankings as a sign of importance."
Though Lorusso mentioned "illegally acquired and illegally possessed firearms," he does not appear to have acknowledged that police shoot and kill Black people at a much higher rate than they do white people.
A recent CNN story on child homicide deaths in the U.S. notes that from 1999 to 2020, "Black boys were killed more than any other group, and firearms were the most common weapon used in children's deaths." The story notes that previous research suggests "the racial disparities may be attributed in part" to racist authority figures and "the system-based inequities of the neighborhoods many children live in, with high concentrations of poverty, few safe places to play and underfunded school systems."
In a statement to Denver7, RMGO executive director Taylor Rhodes said Lorusso "misspoke" because he had little experience speaking in such settings.
"Monday, I allowed Kevin Lorusso, our most junior staffer, to testify on behalf of Rocky Mountain Gun Owners on two bills we knew were going to die in committee to get him experience in the public forum," Rhodes said in a statement. "If you have testified on behalf of a large organization, or even on behalf of yourself, this can be a very nerve-wracking exercise. In his testimony, he misspoke when discussing a heated topic surrounding the gun issue. Rocky Mountain Gun Owners will continually support and defend the Second Amendment freedoms of all law-abiding Coloradans."
Rhodes added that RMO would not comment further on the situation.


[ad_2]

Source link