[ad_1]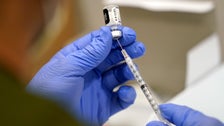 The Centers for Disease Control and Prevention on Thursday updated its schedule of recommended immunizations to include COVID-19 shots and boosters for children, adolescents and adults.
The schedule was recommended by the agency's Advisory Committee on Immunization Practices, then approved by the CDC and other health care organizations, including the American Academy of Pediatrics.
The CDC can issue guidance, but does not have the authority to mandate vaccines for schools or work settings. Such mandates can only be put in place by the states.
Dr. Neil Murthy and Dr. A. Patricia Wodi, authors of the report recommending the addition of COVID vaccines, told CNN the new immunization schedule emphasizes the importance of the shots for different age groups.
"This, in a sense, helps 'normalize' this vaccine and sends a powerful message to both healthcare providers and the general public that everyone ages 6 months and older should stay up to date with recommended COVID-19 vaccines (including a booster, when eligible), just as they would with any other routinely recommended vaccine," Murthy and Wodi said in a statement.
The committee considers vaccine data, safety as well as "societal impacts of the vaccine-preventable disease" to determine recommendations.
The new schedule says children aged 6 months to 4 years can choose between a two-dose Moderna primary series, followed by a bivalent Moderna booster, or a three-dose Pfizer-BioNTech primary course.
For 5-year-old children, the schedule recommends two shots of Moderna, followed by a bivalent mRNA booster, or two shots of Pfizer-BioNtech followed by the company's bivalent booster.
For children aged 6 to 11, the CDC recommends two doses of the Moderna vaccine or two doses of the Pfizer-BioNTech shot, in both cases followed by an mRNA booster.
Those 12 to 18 can choose between a two-dose Moderna series or a two-dose series from Pfizer-BioNTech or Novavax, followed by a bivalent booster for either.
Adults can choose a two-part primary series, followed by a bivalent booster dose.
The report includes further guidance for children, adolescents and adults who are immunocompromised.
Apart from COVID, this year's new schedule features new or updated guidance for the following vaccines: influenza, pneumococcal, measles, mumps and rubella.
A fall in children's vaccinations has been recorded across the country, prompted by decadeslong hesitation around the measles vaccine, coupled with the more recent backlash against COVID-related safeguards like vaccine mandates.
This comes as the agency has recorded a weekly total of over 282,820 COVID cases and over 3,170 weekly COVID-related deaths.
Over 69% of the U.S. population has completed a COVID vaccine primary course, and 15% of Americans have had a bivalent booster shot.


[ad_2]

Source link