[ad_1]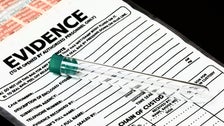 A Southern California man was charged Thursday with killing two women in 1981 after DNA evidence linked him to the crimes, prosecutors announced Thursday.
Tony Garcia, 68, of Oxnard appeared in court but his arraignment was continued to Feb. 23, the Ventura County District Attorney's Office said in a statement.
It wasn't immediately clear whether he had an attorney to speak on his behalf.
Garcia, a Navy veteran and former martial arts teacher, is accused of kidnapping, raping and strangling Rachel Zendejas, 20, in Camarillo in January 1981 and strangling 21-year-old Lisa Gondek in Oxnard in December 1981.
Zendejas was found dead in a carport in Camarillo, authorities said.
Oxnard Police Chief Jason Benitez said Gondek was found after a reported apartment fire.
"Personnel responded to the scene and extinguished the blaze, but they located Lisa's deceased body in the bathtub, in the bathroom," he said at a news conference Thursday.
Oxnard and Camarillo are both in Ventura County.
Garcia lived for decades only a few miles away from the crime scenes until he finally was linked to the killings, authorities said.
"The fact is, this suspect has been hiding in plain sight, for over 40 years," Ventura County Sheriff Jim Fryhoff said.
In 2004, investigators determined that the same person killed the women but couldn't find a DNA match in a law enforcement database.
Authorities said Garcia became a suspect in 2019 after cold case investigators turned to genealogical DNA, which compares crime scene DNA with commercial databases that might include profiles submitted by relatives of the killer.
Garcia is charged with two counts of murder with special allegations that they were multiple killings and that one involved kidnapping and rape.
The District Attorney's Office hasn't decided whether to seek the death penalty or life in prison without parole.


[ad_2]

Source link